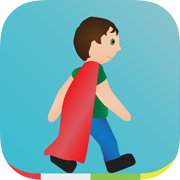 What is DayCape?
DayCape is an app that helps kids on the autism spectrum prepare for daily activities and enables the full support team – family and teachers – to collaborate.
It works as a picture scheduling app that helps parents, caregivers, and teachers save time and stay organized.
DayCape's founder was diagnosed with autism as a child and wanted to make autism a superpower with his app.
Overview
This calendar system is packed with some great features:
Simple to use. Easy to use and navigate
Large picture library. DayCape has a large selection of pictures – everything from getting dressed, brushing teeth, to driving in a car, and many more. You can also add your own pictures.
Design customization: you can customize the design and look of the app. This makes it personalized for each user. If you are scheduling for multiple users, you can set up multiple schedules for them. All schedules can be easily accessed from one account.
Notification reminders: Helpful notification reminders will alert you of the next activity. As an event draws closer, it will change color.
How the app works
Create a Day Cape account on the website, currently it's free to sign up!
Create an activity in your account. You'll give it a name and a picture. For example "Wake-up." You can upload your own photo or choose an image from their image library.  It works just like a calendar – you can set up recurring activities throughout the week.
Connect the schedule library to the app. It would be great to see an option to setting up schedules right from the app instead of having to log onto the website to make any changes.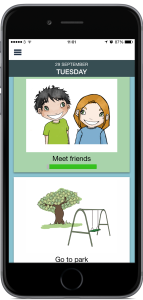 Device
DayCape is currently only available for the Apple iPhone and iPad. Stay tuned for the Android version coming soon.
Want to give DayCape a try?
Download a FREE Beta Version of the Day Cape App Here
or check out the Day Cape Website
---
This review was part of our Kickstarter campaign reward. Day Cape is one of our Silver Backers. Thanks Day Cape!
Review by
Catherine Pascuas
Host of The Autism Show Podcast