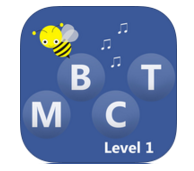 Melodic Based Communication Therapy (MBCT) Level 1 is an evidence based intervention. This app was designed by a speech language pathologist to help caregivers and therapists assist nonverbal and low verbal children (less than 10 words) with autism learn to speak.
This app was designed for kids on the autism spectrum, but it can also be used to help young children learn new words.
The application will assist in teaching children to say single words that many children learn first using research based melodies.
What is Melodic Based Communication Therapy?
This app was designed to make use of the musical strengths of the child with autism in order to increase verbal output.
MBCT uses a pre-recorded standard melody for each target word. Each melody is specific to its target word.
Therapy is suggested 45 minutes a day, 4 times a week.
This video will give you a good idea about how MBCT works:

Overview
25 melodies
25 colorful photos
Link to research on MBCT
Step-by-step outline
Method for tracking progress
How the app works
There are vocabulary sets in the app.
For example, for the word "Apple" a picture of an apple will appear. You can track the child's progress with the green check mark on the app. A word will repeat 10 times with a small pause in between each. Each word has it's own melody and the child is led to clap along while saying/singing the words.
There are instructions within the app to conduct the Melodic Based Communication Therapy.
This is a basic app that is really only suitable to children on the spectrum who are non-verbal or can communicate with less than 10 words in their vocabulary. It can be particularly good for kids who may be interested or have an affinity to music.
MBCT is a relatively new therapy – you can read about the initial pilot study.
Device
iPhone and iPad only.
Want to give Melodic Based Communication Therapy a try?
Price: $5.99
or check out the Melodic Based Communication Therapy Facebook page
---
This review was part of our Kickstarter campaign reward. The creator of Melodic Based Communication Therapy is one of our Silver Backers.
Review by Catherine Pascuas
Host of The Autism Show Podcast