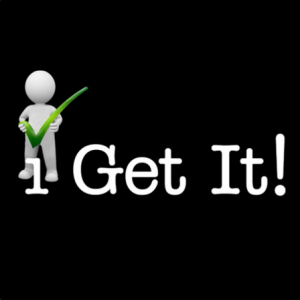 Create your own personal storybooks by adding your own custom photos, text and audio to support your visual learner.
What is I Get It?
I Get It Apps are language building apps that support labelling, sentence building, visual schedules, and social stories.  Each story book can be customized with photos, text, and audio to support your visual learner.
It's a great app to use if your child uses PEC symbols to communicate.
I Get It Apps were started by a parent of a 16 year old with autism:
"I was getting tired of the PECS posted all around my house and when he got his iPad, I felt this was a way to help him visually and a tool that was not going to make him stick out in public. Using photo books that I could customize was a much more age appropriate way to help him."
Overview
Cooking, Classmates,  School, Family, Community and Christmas Vocabulary (each on separate apps).
Create photobooks right from the app on your mobile device
Share books as PDF files or book files
Save and backup books on dropbox for safekeeping.
Great teaching opportunities while using the app.
How the I Get It Apps work
Making a Word Storybook: With the I Get It Identification Apps, I can make a storybook with photos that I've uploaded about the child. For example, I've uploaded photos of family members and made a text label with Mom, Dad, Aunt, Brother, etc. I can use this storybook to help build the child's vocabulary.
Making a full-sentence audiobook: Next, I copy the same storybook and add audio phrases. Now, I have an audiobook for the child to learn about family members. I can help the child take an interest in other family members with this storybook (social skills).
Making language exercises: Next, I copy the same book and type "when, what, why" questions for each family member pictures. The child then has to answer the questions when going through the story book.
This is just an example of how I can use the apps – there are so many uses so feel free to use your imagination.
Here are some other ideas:
Teaching life skills
Recalling/retelling
Visual schedules
and more!
What I Like About It
Simple to Use. Makes it easy for parents, caregivers, and teachers to use picture symbols and create storybooks
Visually Appealing. You wont have to spend a lot of time figure out how the program works.
Great replacement for PECS symbols. Keep all the picture symbols you need in one spot on the iPad or iPhone.
Parents & Professionals can use this app. There are so many uses to this app, you can create text storybooks, audio storybooks and customize it to your child's language level. It will grow along with the child. You can also share the books you create with the children's therapists or teachers so they can practice using the same images.
Started by an autism parent. I love that this app was started by a parent who understood the struggles of using the PECS system.
Device
iPad, iPhone. (Android support is currently on the to-do list – hopefully will be coming out soon)
Want to give I Get It Apps a try?
App prices for the Identification Apps are $2.99 per app.
You can download the I Get It App on iTunes
or check out the I Get It Apps Website
---
This review was part of our Kickstarter campaign reward. I Get It Apps is one of our Silver Backers.
Review by
Catherine Pascuas
Host of The Autism Show Podcast