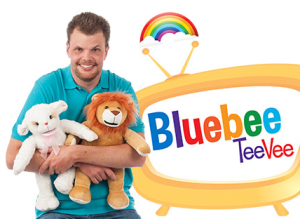 Bluebee TeeVee Autism Information Station, the innovative and free webisode series to teach children about autism! It's autism education in a pop culture style and delivered by an autistic host, James Sullivan.
Listen to the Episode below
(00:18:55)

Podcast: Play in new window | Download | Embed
Bluebee TeeVee's Story:
When Jodi saw the Bluebee Pals, she had the idea to use these talking plush stuffed characters in a webisode series that would teach kids about autism.
James is an autistic filmmaker who has been making videos for 15 years before he met Jodi. He is the host, scriptwriter and he does the filming and the editing himself. Jodi's son, Jonathan, is an autistic voice actor who does all the voices of the Bluebee Pals.
Hear more about this wonderful webisode series in this episode of The Autism Show Podcast.
We discuss:
James's story and his background in video-making.
How are the Bluebee Pals are helping children on the autism spectrum.
Special BlueBee TeeVee resources for parents and teachers.
Great advice about employment for people on the spectrum.
Interview Links:
---