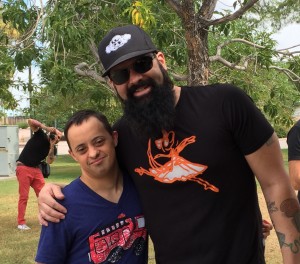 Robert Thornton is the Founder of Paper Clouds Apparel. They have provided the shirts for the Autism Activities Handbook Kickstarter Campaign. Only a few days left to get your Paper Clouds Apparel T-shirt too!
Listen to the Episode below
(00:20:41)

Podcast: Play in new window | Download | Embed
Robert's Story:
Robert's mother was a bus driver for children with special needs. One of the little girls on her route would spend the duration on the ride drawing. She often would give her drawings to Robert's mom. This is where Robert got the idea to start Paper Clouds Apparel.
Hear more about Robert's inspiring journey to create a business with encouraging campaigns for people of all abilities on this episode of The Autism Show Podcast.
We discuss:
How Paper Clouds Apparel is helping people with special needs.
Great advice for hiring people with special needs.
Many wonderful inspirational stories.
Robert's noble mission for the future of the special needs community.
Interview Links:
Back Our Kickstarter Campaign!
About Marija Nedanova