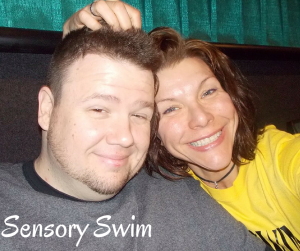 Andrew HaHa Ross & Mary Sunshine Ross are better known as Sensory Swim the most requested special needs swim program on the planet.
They help kids on the autism spectrum become swimming machines via their extremely enjoyable, exceedingly effective, perfectly fitted, private special needs swim lessons.
Listen to the Episode below
(00:18:48)
Podcast: Play in new window | Download | Embed
Sensory Swim Story:
Andrew and Mary are special education teachers-turned-special-ed-swim instructors.
Listen to the audio interview above to hear more about Andrew and Mary's journey to teach kids with autism and special needs to become swimming machines!
We discuss:
How Sensory Swim is helping kids on the Autism spectrum become swimming machines.
The best way for kids with autism to learn to swim – even if they're afraid of taking a bath.
Interview Links:
---