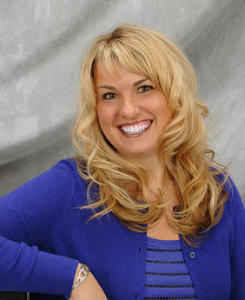 Are weighted blankets for you? Weighted blankets with The Pocket OT.
Pediatric occupational therapist, Cara Koscinski once practiced occupational therapy, primarily serving an adult population. It wasn't until she had two special needs kids of her own that she made the switch to paediatric OT. Cara's two sons are both on the autism spectrum and have sensory processing disorder. Cara is the creator of The Pocket OT series.
She has coauthored a new book, The Weighted Blanket Guide.
Listen to the Episode below
(00:20:01)

Podcast: Play in new window | Download | Embed
Weighted Blankets
There isn't much information out there on weighted blankets and how they work. Cara and her co-author decided to tackle this topic to help families, patients, and professionals learn more about the increasingly popular blanket.
Cara and her co-author set out to interview neuroscientists, professionals, patients, and families that have used a weighted blanket to help them with sensory issues.
The Weighted Blanket Guide is a book where an occupational therapist does the technical work and someone on the spectrum, Eileen, gives her perspective on how she's personally benefited from using weighted blankets.
Hear more about weighted blankets, a controversial story, and more in this episode of The Autism Show Podcast with fabulous returning guest, Cara Koscinski.
We discuss:
What a weighted blanket is and how it works.
The biggest revelation for Cara while researching and writing about weighted blankets.
What would Cara say to a therapist that doesn't recommend weighted blankets.
A controversial story.
First steps that a parent who is interested in getting a blanket should take.
More info:
Stay up to date with the Autism Community:
Are you a parent? professional? or just interested in keeping up to date with the autism world?
Join 35,000+ listeners from around the world.
Subscribe to The Autism Show podcast on
---